We're very proud of our reputation as one of the leading fire protection specialists for quality and client satisfaction. We're constantly evolving and growing to maintain this – continuously striving to achieve the highest standards in technical knowledge, customer service, staff engagement and continual business improvement
We manage quality assurance and control on site through client-accessible paint and firestopping progress logs, test and inspection reports and proactive site visits to give the client confidence that the works installed meet specification and compliance requirements.
Pyrotect deliver services to a range of sites and sectors, but we know our clients have three common needs:
We understand this at Pyrotect. We know that quality management and quality control provide assurance, transparency and confidence and we work closely with our main contractors to ensure they get these.
DETAILED DIGITAL
SOFTWARE PACKAGE.
All our works are recorded through secure mobile software that allows site and commercial teams to access their project remotely, detailing progress, traceability and cost at the click of a button.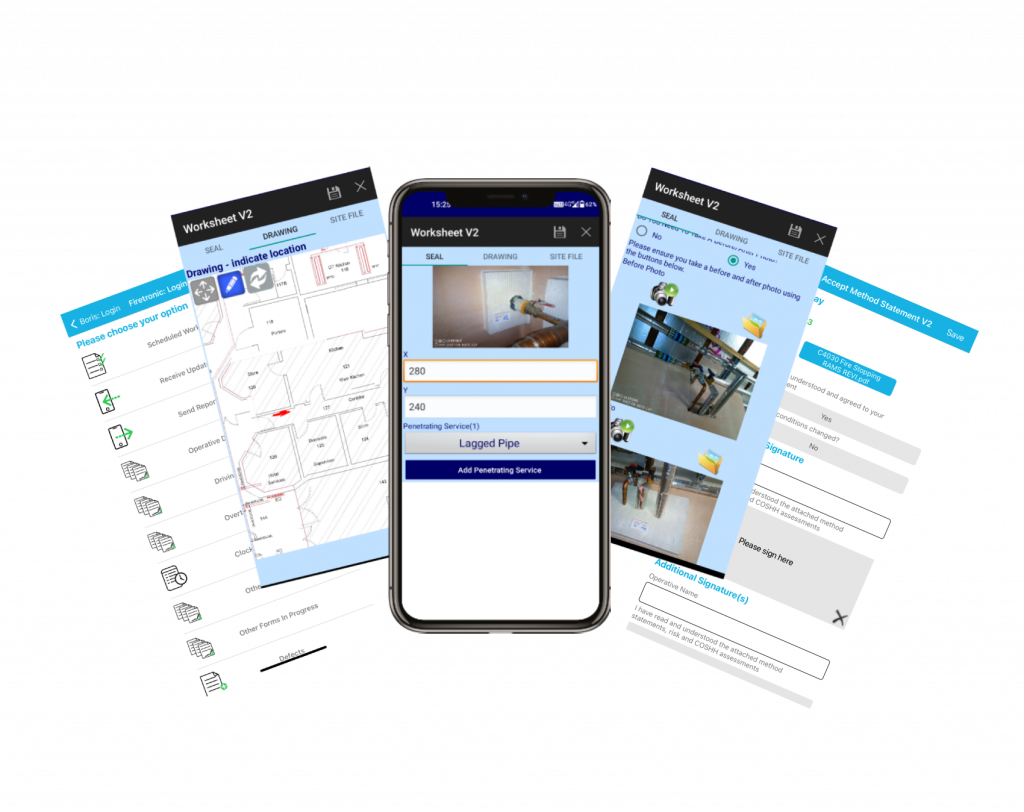 False confidence in passive fire protection installations can cost lives if assumptions are made that the completed works are correct and effective.
At Pyrotect we operate a robust inspection and test programme to provide peace of mind and evidence-based assurance that the works we've certificated are fully compliant at the point of handover.
Our operatives complete wet film testing (WFT) at the point of applications, ensuring they've applied sufficient paint to the steel. It's a straightforward dip test with a depth card and is recorded on our live works system. There's a degree of shrinkage as intumescent paint dries so a dry film test (DFT) is completed when the paint has set.
A calibrated probe detects the micron depth of the dry film to ensure the coating is sufficient to provide the expected protection. The results of the DFTs are also accessible to clients through our live system.
Our supervisors and Contracts Managers complete visual inspections daily and undertake random destructive tests of their teams' penetration seals to ensure the installations have used the correct materials for the detail, are compliantly installed and will achieve the required fire protection. Destructive testing reports and photos are available to clients through the live system.
Air and Acoustic seal tests
Air and acoustic seals are logged to our live system at the point of installation. Our site supervisors work closely with client site management teams and support any air or acoustic testing arranged on site.
'RIGHT FIRST TIME' ETHOS.
At Pyrotect we have a 'right first time' ethos. We strive to deliver fully compliant installations at the first attempt, minimising overruns and supporting efficiencies in our clients' budget and schedule. And with less material waste and less emissions, getting it right first time brings environmental benefits too – it's a win-win situation.
Experienced, skilled workforce
We invest in our people, ensuring that teams deployed to sites are highly-skilled, knowledgeable and experienced – and committed to our way of working.
We encourage our clients to engage early to ensure the scope is clearly defined and agreed before we start on site. Changes to scope and detail later down the line can be costly to implement.
Collaboration and communication
We support clients in sequencing the works effectively for passive fire installations, maximising the work we can achieve in a visit and reduce the likelihood of damage to installations by later trades which result in a return visit for remedial works.
Detailed, site-specific RAMS are issued to both our operatives and site management prior to starting on site to ensure everyone involved understands the agreed scope.
We're very proud of the third party accreditations we hold as they provide independent assurance to our clients that our works are compliant and our processes are robust.
These rigorous assessments from respected industry bodies such as FIRAS, Constructionline, CHAS and SafeContractor, as well as to the internationally recognised ISO 9001:2015, demonstrate our commitment to high standards in passive fire compliance, health and safety, quality and business management.
SPEAK TO US ABOUT YOUR FIRE PROTECTION NEEDS.
Got an upcoming project and need a trusted expert to deliver your fire protection needs? Get in touch with us today to find out how we can help.